Gluten Free Vegan Banana Flour Bread. This Vegan Banana Bread is fluffy, gluten-free, and absolutely delicious. However, I did have one small problem – Vegan Banana Bread always seemed to fall…flat. There are a plethora of vegan recipes out there, but none.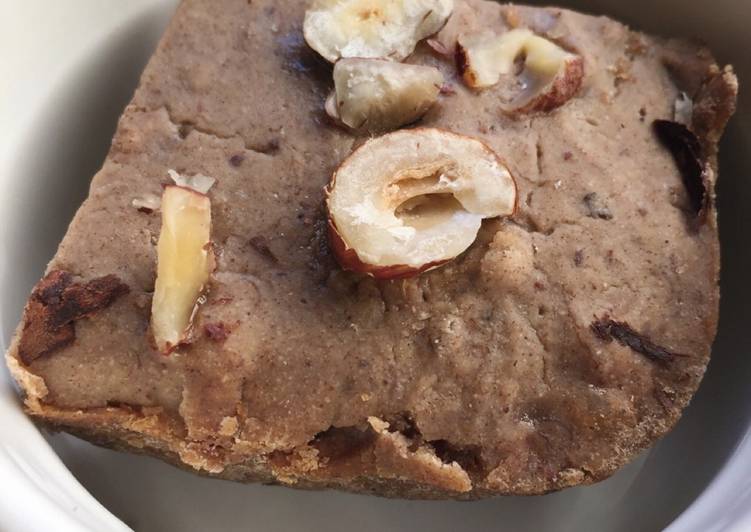 Using this flour to make gluten-free banana bread. Banana bread is always best made using ripe bananas. This is because they're naturally sweeter and they're softer so easier to mash. You can have Gluten Free Vegan Banana Flour Bread using 5 ingredients and 5 steps. Here is how you achieve that.
Ingredients of Gluten Free Vegan Banana Flour Bread
You need 1 of & 1/2 cup banana flour.
You need 1 of & 1/2 cup mashed ripe bananas (about 3 medium bananas).
You need 2 of flax seed eggs**.
Prepare 1/4 cup of nondairy milk of choice.
Prepare 1/2 cup of date paste.
However, if you don't have any ripe bananas, this recipe will still work with normal bananas too. How to make this Gluten-Free Vegan Blueberry Banana Bread. Vegan, Gluten-Free, Refined Sugar-Free, Oat Flour. Until now. 😉 If you're still not convinced, let me tell you all about it.
Gluten Free Vegan Banana Flour Bread instructions
Turn oven on at 350°C.
Mix in all wet into banana flour, and pour the batter into a loaf cake pan..
At this point, you could add nuts or seeds of choice on top..
Bake the cake for about 50 minutes, and let it cool outside before storing..
*mix 2 tbsp flax meal with 6 tbsp water and let it set in a cool place for 10 minutes (preferably the freezer)..
My One Bowl Vegan Gluten Free. Oat flour banana bread with just a few simple ingredients and an extra-sweet cinnamon date topping! And if you've never tried it before, I highly recommend making a banana bread nicecream sundae for breakfast. Warm slice of banana bread, cold creamy. banana bread recipe, how to make banana bread without eggs, eggless banana bread, dairy free vegan banana bread, gluten free banana bread without whole wheat. This gluten-free banana bread is a little healthier than your average recipe, because it's made with no oil or refined sugar.